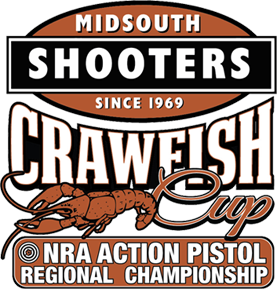 2019 Midsouth Shooters Crawfish Cup - Second Gun
Important Match Information!
This is the sign up for your second gun of the match. Second gun must be physically different type and model number. For example, a DA semi-auto entered in both Production and Metallic or a Metallic gun entered in both Open and Metallic will not be allowed.
Dates
Friday Apr 12 2019 - Saturday Apr 13 2019
Range
Southwest Louisiana Rifle & Pistol Club
5720 Old Camp Road
Bell City, LA 70605
Match Fee
$ 110
Early Discount
$ 50&nbsp if by 2019-03-31
Match Director
George Mowbray
george@swlarifleandpistol.club
(337) 304-1920
Website
www.thecrawfishcup.com
Entries Open / Max
120 / 124
Entry Open/Close
Feb 21 2019 to Apr 10 2019
Registration is Open!
Sign Up Now!