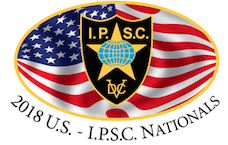 2018 US IPSC Nationals
Important Match Information!
Pre Match is Thursday. Main Match Fri/Sat OR Sat/Sun. Review the schedule option on our website for more details. This match is run under IPSC sanctioning and rules. Be sure to review the Division requirements. Must have Match Director permission to shoot on Friday. If interested in working as Staff email MD.
Dates
Jul 12 2018 - Jul 15 2018
Range
Universal Shooting Academy
Match Fee
$ 160
Junior Discount $ 80
Match Director
Shannon Smith
SmittyFL@Gmail.com
813.732.5249
Range Master
Troy McManus
dnroi@uspsa.org
Website
http://universalshootingacademy.com/matches/us-ipsc-nationals/
Entries Open / Max
206 / 350
Entry Open/Close
Mar 05 2018-Jul 10 2018
Registration is Open!
Sign Up Now!